Simply being thankful for parrots. For once, an organized gang of parrots not ravaging anyone or any place! Just parrots that are appreciated for being parrots.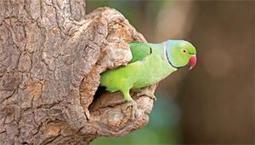 More than a thousand rose-ringed parakeets still find a safe place to roost in the trees near Orion Mall; their presence is a gift
This article, in its entirety, written by Vishakha Chanchani, appeared in the Bangalore Mirror, November 7, 2014:
As I look out through the window of my brother's apartment, I see a host of high-rise buildings against a grey sky. Pigeons hover inside, and make human habitats their own. They find small balconies and settle down on potted plants, making a mess, to the detriment of some plant loving residents!
The Orion Mall in the Brigade Gateway complex in Rajajinagar attracts many human visitors, who gather here in the evenings to enjoy open spaces, the water body, and all the shopping and eating joints. Humans of different ages, shapes and sizes, rub shoulders with each other, taking a break from work and home to enjoy the small pleasures of an evening outing.
Well, allow me to tell you of the other visitors that frequent this place. The flying foxes, the kites, stray dogs, and flocks of parakeets that roost here. The latter gathering together, every evening unfailingly, just as humans flock together in the same complex, in the very same hours!
Wasn't I amazed one evening, when I suddenly discovered that right at the entrance gates of the Mall, a host of rain trees offer their branches to hoards of parakeets? After about six in the evening, I see them arriving in small flocks. One flock after another screeches its way to the crowns of these trees, adding to the green of existing leaves.
The parakeets fall silent as they settle down; the dark takes over, and spots of light from below highlight the glimmering green of the birds. People walking up to the complex may mistake the parakeet-laden trees for leaves. As for the parakeets, they do not seem to mind; not even those lights under the trees that turn this every day event into a well-lit drama. Some watch, whilst some miss the charm altogether.
Maybe, these rose-ringed parakeets are visitors to us; but for these birds, this has been their nightly spot, their home of many decades.
Long before manmade constructions made their presence felt, these areas were populated with trees and shrubs that might have been hosts to more wild life. The parakeets continue to roost here, braving the changing city, glaring lights, a human population, and the traffic that beeps and whizzes by the roads, above which they settle.
Thank god, for their trust, for continuing to make their homes amidst us. Why on earth do we need to trap and cage these birds, when we can invite them to live with us -- allow for trees in our landscapes, and have these special green exchanges? More than a thousand parakeets still find a safe place to roost in, in this part of the town.
When their feathers were molting, I collected them. Feathers flecked with gold, green and blue, brown and graying, straight or slightly curled. Somebody once wrote a poem saying that if you find a feather, pick it up and put it in your pocket -- it's a gift from a bird.
Well Nagarvasi, the presence of winged wild life, in a multiple and urban complex like this, is certainly a special gift. May we always remember, and never forget, to look after it.
Take care till then.